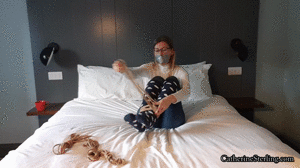 21:03 video
Fluffy Socks Make for a Massive Mouth Stuffing in my Self-Gagged Day Out! Duct Tape Gag for Girl in Glasses!

A Two Part Custom Video!


Earlier in the day I had enjoyed deliberating over my socks to wear for the day, both on my sweet UK size five feet and in my eager to be gagged mouth! Now my jaw is aching with the constant stretch from the sopping wet fabric stuffed inside my cheeks, and my body is aching from the desire that pressure against my tongue has stirred… Arriving home I slip off the cloth facemask that has been hiding my massive self-gagging, pressing the duct tape harder onto my lips with my palm, before grabbing hanks of stiff jute rope. When I'm gagged I yearn for bondage! Tying my ankles, calves and knees over my soft and thick knee high socks and skinny denim jeans I roll around on top of my bed, straining and struggling to wrap rope into a crotch harness that bites into the most sensitive areas between my thighs. I reach behind my back to tie my wrists and feel thoroughly helpless in myself bondage predicament, long blond hair flowing, framing my wide eyed enjoyment behind metal rimmed glasses. I can see plenty bountiful booty views of my ass over socked soles views in the mirror at the foot of the bed. When I've struggled to exhaustion I lean in for a close up look at myself as I peel of the super sticky duct tape from my face, and one after the other pull out the dripping wet sneaker socks that have been soaking up copious amounts of drool as my mouthstuffing all day!

Watch me self-gag with sneaker socks in Part One!