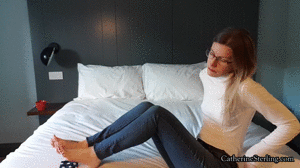 10:13 video
Fluffy Socks Make for a Massive Mouth Stuffing in my Self-Gagged Day Out! Duct Tape Gag for Girl in Glasses!
Part One of a Two Part Custom Video!


Deciding which socks to wear for the day is one of my favourite parts of getting dressed, I often find myself trying on pairs of socks, for the look and the feel of them! Today I have quite the predicament… a shorty sneaker socks pair or a knee high pair – both in the same super fluffy chenille knit! First I slip the tiny trainer socks over my bare feet, dainty pedicured toes sliding inside the squishy material of the blue polkadot pair that sits so well up to my ankles. Next the knee high socks come out, and I pull them up over my tattooed feet and skin tight denim jeans, smoothing them right up and over my calf muscles. I admire the chunky knit socks, leaning back on the bed to see the socked soles over ass in my mirror, my nipples hardening under white poloneck sweater as I take in this sexy sight. Now I've decided to keep on this extra snuggly, thick pair of long socks, what should I do with the first pair, I wonder?... I'll wear them out still, in my mouth! Leaning in for a close up view of my red lipstick and metal frame specs, I stuff both feet of the fluffy thick socks into my mouth, watching my eyes water and cheeks swell at the size of this gigantic mouthstuffing self gag! I tape gag the lot in place with strips of silver duct tape over my lips, and secure this further for my day out in public with a face mask over my nose, mouth and chin, that matches my socks! Pulling on winter boots and grabbing my handbag, I'm ready to enjoy the massive gagging I've given myself, as I head out the door for the day.

See what Catherine Sterling gets up to when returning home in Part Two, coming soon!