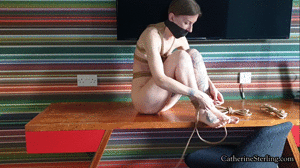 9:07 video
Tiny Tits on Tattooed Blonde, Tied Up Tightly by My Own Hands in a Hotel Room Hogtie - Waiting On the Desk!


When I arrived at the hotel room as instructed I saw my first order of the week waiting ready for me, to prepare myself for what lay ahead, with simply three words : Cleaned, sealed and ready.
Well, where bondage is involved I am always ready! I unpacked my rope first and stripped down till my naked, tattooed frame was bare and ready for a shower. Once I was clean and tidy from top to toe I began on the sealed part of the order, with a wide vetwrap gag right around my head. I'd stuffed a pair of socks in my mouth first, the bulges of fabric in my cheeks showing through my wrap gag. Then I began to tie myself, a self bondage chest harness first keeping my tiny titties pointed and pert, and a crotch rope that gripped my clit between its grip. Now to mount the desk and get myself into a hogtie predicament, bare foot soles skimming the air as I pull a rope taught to tie to my waist rope, and keeping my wrists behind me. I struggle in enjoyment of the hard surface beteath my hips, arching my back and ass against the ropes, ready, till the next order comes...