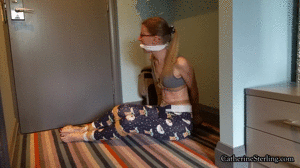 17:34 video
Stealthy Hotel Room Intruder Tied Up, Gagged & Stashed Catherine Sterling in the Corner! Rope Escape Attempt - A Custom Video!


I'd been lounging in my hotel room in my Star Wars pyjama bottoms and crop top when the surprise stealthy intruder crept in catching me unawares! He'd come prepared with rope to tie me up and a handkerchief to gag me with, knotting it, tying the cloth firmly round my ponytailed head, and between my teeth gagging me. I struggle but he put me in the corner next to my luggage and left me there....
I was there so long I lost track of time, stirring now I hear it's quiet in the room, I can't see the burglar anywhere... I begin to test the ropes he tied me up with, first my wrists behind my back. I call out but the thick cloth pressing on my tongue muffles my cries as I keep working at the ropes that hold me here on the floor. Can I free myself, or will I be stuck the damsel in distress until housekeeping arrives?

BONUS - My bondage fantasy revealed! At the end, you'll see a flashback to the beginning of my bound predicament, and that stealthy intruder is no where to be seen... Turns out my dreams were all about self bondage!