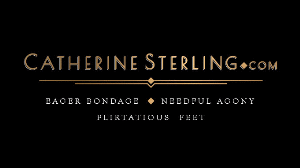 13:41 video
Self Bondage, Binder Clips, Elastic Band Tit & Toe Torture, & a Body Shaking, Frantic Paingasm Orgasm!


Stuck inside during lockdown, I got a short amount of time to myself when the family went out for a walk. Fresh out of the shower I stayed behind by myself, claiming wet hair and cold air wouldn't do me any good… But I knew what would!
Grabbing jute rope out of my cupboard, a handful of binder clips and elastic bands from my desk, and my powerful Bullet vibe (small and mighty!), I set to work with these tools of self pleasure. Quickly, somewhat frantically, I wrap the rubber bands around a few of my favourite sensative areas – nipples, big toes and pinky toes, knowing the constant pressure of the pink and purple circles of biting tightness will build delightful, throbbing heat of tit and toe torments. I tie up my ankles and under my knees with wide cinches, rope coiling around tattooed legs, followed by a rope gag cleaved between my teeth, pulled tight enough to cut cruelly into the corners of my mouth. I need to make the most of every minute, who knows when I'll hear the front door open… I race against the clock and the mounting fear of being caught out (why did I leave the bedroom door open!?), tying my wrists together with rope handcuffs, before gripping chunks of flesh on my slender and tender tummy with the wicked grip of bulldog clips. My breath comes in gasping grunts as I switch the vibrator on, shaking in a climax from orgasm, and aftershocks of paingasm taking over my entire body in its shuddering clutches till I feel wrecked and raw, tears escaping my eyes.