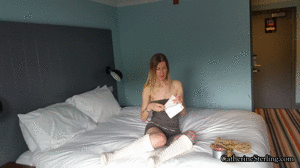 14:29 video
Hotel Room Intruder Instructs Woolen Sock Damsel into Self Bondage Predicament Struggle-fest! Duct Tape Massive Mouthstuffing Gag!


After spending the day exploring on my solo city break, I'd retreated to my hotel room to relax and rest my feet after many miles treading concrete in my Converse. Changed into comfy leisure knitwear, an off the shoulder bandeau top and skimpy shorts knit in Nordic woolen yarn, and thick wooly, white knee socks, I slip out of the bathroom and am startled by an intruder!

I've no idea what this hotel room interloper wants with me, and plead that he causes me no harm. I am my best compliant, submissive self as he instructs me to first gag my self with a huge cloth I struggle to stuff instide my mouth, it's amazing what big things can fit into protesting holes with perseverance (and a good hard shove).

I seal in that massive mouthstuffing gag with duct tape strips over my lips, and keep following his every word, tying my ankles and knees with stiff jute rope sock bondage. Next I tie my wrists tightly behind my back, and am left struggling in on the bed in a classic damsel predicament while I wonder on what his plans are for me next...

BONUS see me ungagged, stretching out my sore jaw from such a work out in the biggest gag I've ever taken!